Every once in a while, a project comes along that I'm not sure of, but want to do anyway. And sometimes, it pays off. Mamma Mia is one such project.
A couple of years ago, Pranoti reached out to me on instagram, enquiring if I'd like to make some illustrations for a book she was writing. I was intrigued. She mentioned it was her take on life as a parent. I was apprehensive. Not having any kids of my own, a book that spoke about the "parenting journey" seemed like the sort of thing I would not be able to connect with and do justice to. But I listened, and then I laughed. The book Pranoti described wasn't a "how to / tips on parenting " book, it was a chuckle fest about what raising kids could be like. Pranoti found humor in the everyday mishaps and mayhem of parenting, and spun these into some hilarious lines. As we talked, I remembered some of the antics I pulled when I was a brat.
I signed on to do some illustrations for the book, and ended up being more involved than I thought I would. Our brainstorming sessions were actually stress-busting, as it happens when you're talking to someone who gets what you're talking about. Pranoti and I "clicked" so to speak, so the whole process of illustrating the lines was rather fun.
Once we had some lines ready, the pitching process began. We sent the lines and illustrations out to publishers, and waited with crossed fingers.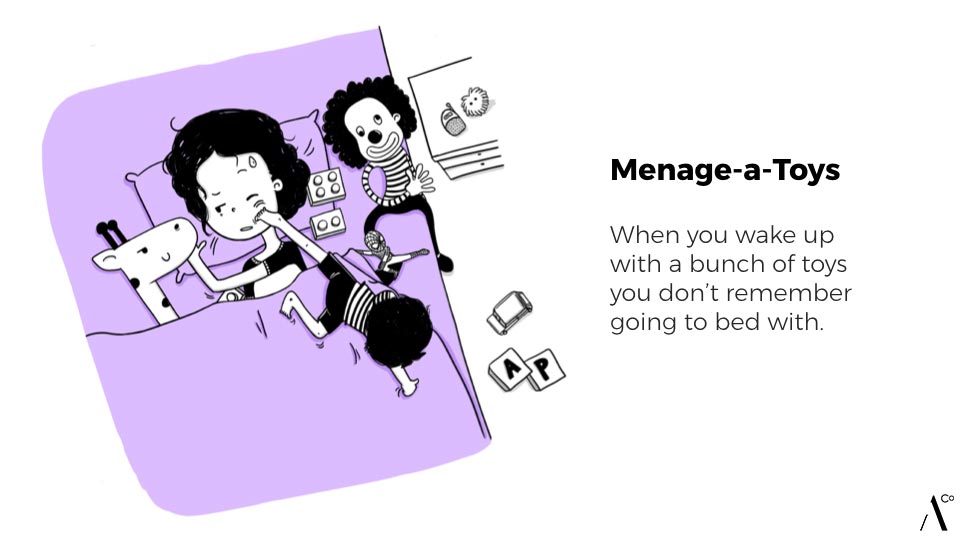 Now this is another reason this project was different. I'd illustrated a couple before, but hadn't been part of the process of pitching a book to a publisher. Pranoti found a publisher – It wasn't easy and it took a while, but she kept at it and found one that was excited about the vision behind the book. Wonder House Books took us on, and what was initially going to be a picture book with one liners, became a coloring book for adults.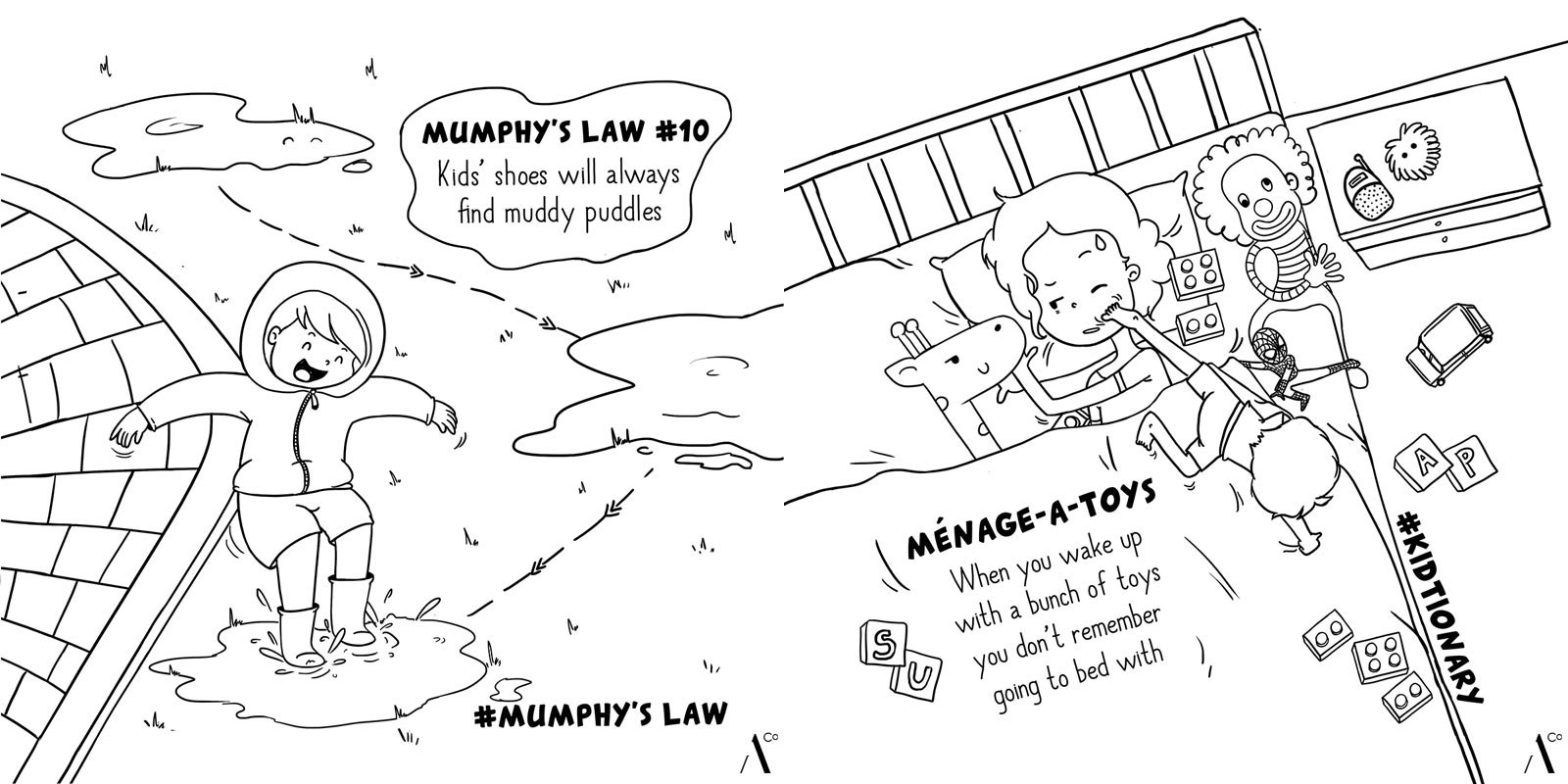 Pranoti and I both share a love for minimalism, so we decided to go that route for the coloring book as well. We wanted to keep it a no-stress activity book, so our readers could do with it what they wanted – whether it was to just enjoy the lines, get their colors out, or really get into it with zentangle/pattern art. It was also the best way to keep true to the purpose of the book – to see the humor in the sticky mess parenting could be.
The Wonder House team was easy to work with, they understood what we wanted, and helped us get it out, with a mix of patience and enthusiasm that made our first publishing experience a good one 🙂 We released the book in India on 26th Jan 2020, and also went on to release it in the US and UK markets!

Looking back, we had quite a bit of fun coming up with visuals to go with the lines. Here are some early sketches.
A coloring book for parents isn't the most "done" thing, but we went for it, and it paid off. Our readers so far have loved the book, they can relate to it, and in a surprising turn of events, a lot of them have mentioned that their kids loved the book too and have taken to coloring it. Happy surprise indeed. We have since started an instagram and a facebook page to display the works of art and words of love sent our way by our happy readers.
I've loved working on this book with Pranoti, and we would love to hear what you guys think about the book.
You can get a copy here –
Amazon India – https://amzn.to/35ZDopt
Amazon US – https://amzn.to/391LQWX
Amazon UK – https://amzn.to/2ucFw0c